Attention all Freddie's customers:
It has come to my attention that various on-line ordering and delivery services have our menu listed on their sites and offer ordering and delivery through them. Let me be perfectly clear about this, WE DO NOT SUBSCRIBE TO ANY OF THESE ON-LINE ORDERING/DELIVERY SERVICES. Please do not order from any of these sites, your order will not be delivered. I am currently working on removing our menu from these sites. In the meantime, please continue to place your carryout orders with us directly. I apologize for any inconvenience ordering from these sites have brought you. I assure you that I did not authorize any of these sites the right to post our menu. Thank you for all the love and support you all have shown us over the past 26 years, you are all deeply appreciated. Stay safe and healthy. Robert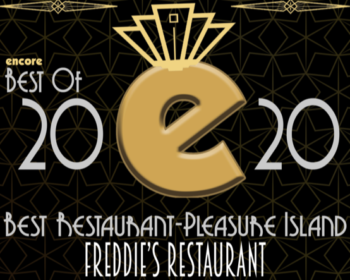 Freddie's Restaurant, in Kure Beach, NC, is the proud recipient of "Best Restaurant" Award from the Cape Fear's popular weekly entertainment publication, Encore Magazine Readers Poll. For many years we have strived to offer the highest quality food, locally sourced when possible, lovingly prepared and served with the utmost professionalism….